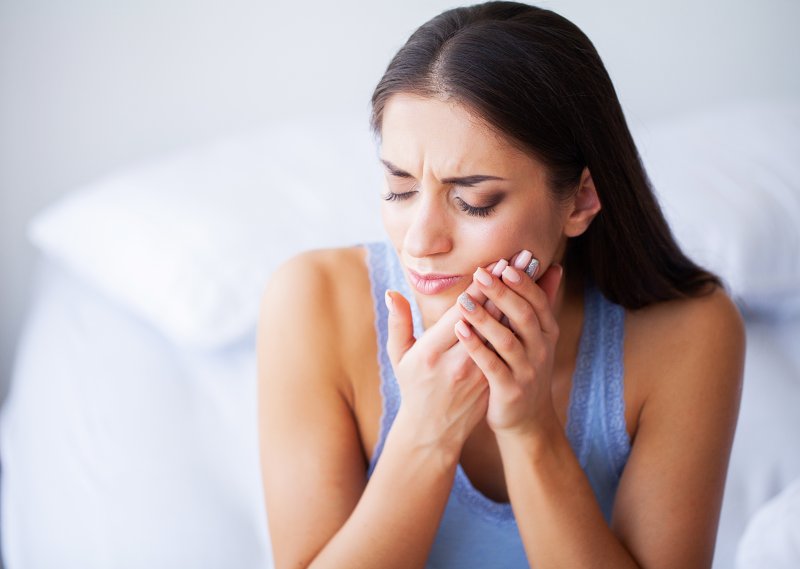 Everyone gets a toothache at some point in their life; however, when the pain is so intense and lingers for several days, it could be a sign there is something more problematic occurring in your mouth. At this point, it is best to be seen by an emergency dentist in Carrollton, so they can identify and treat the issue before it gets any worse. But how do you know when the pain is serious enough to no longer ignore? Read on to find out what symptoms you should monitor to determine if you should seek immediate help.
Sharp Pain
Tooth pain in Carrollton is often the first indicator that something is wrong. When it feels sharp or piercing, you may be dealing with a cavity, especially if it hurts to bite down or chew. Although common among both children and adults, cavities can become more serious if left untreated. Typically, a dental filling is enough to seal the tooth and prevent reinfection, but if the cavity is allowed to spread, it may not be strong enough, which will require a dental crown. In the most worst-case scenario, the decay could spread to the innermost layer of your tooth and result in an abscess, which is a serious and painful infection. This will often require either a root canal or tooth extraction.
Pain Caused by Sensitivity
Does it hurt when consuming hot or cold foods or beverages? If so, you're experiencing tooth sensitivity. This can occur because of teeth grinding (bruxism), poor oral hygiene, or gum recession. If the dentin layer of your tooth is exposed, this sensitive layer of nerves will react accordingly when in contact with something hot or cold, often leaving you with increased pain. When dealing with sensitivity, you should seek help sooner rather than later to determine the cause and whether you need a filling, crown, or even a root canal to address the problem.
Deceased Pulp Causing Discoloration
Stains can easily be caused by dark-colored beverages consumed over time, but if you begin to notice a particular tooth is showing discoloration (turning from yellow to gray), it could be a sign that your tooth's pulp is dead. This means there is an infection, and symptoms will only become worse at this stage. To avoid pus formations or other serious side effects, you will need to see your dentist for immediate treatment.
Swollen Glands
If you begin to notice that your glands appear swollen, you might assume it's due to a sinus infection or another more common, seasonal problem (i.e. flu). While you shouldn't discount these possibilities, you should also be mindful that it could be a serious infection that has spread beyond the confines of your teeth and gums. If it's an abscess, you'll need emergency medical care, as the problem can begin to infect your vital organs.
Other common signs and symptoms to watch for include loose teeth, bleeding and swollen gums, and bad breath. Should you notice any of the above-mentioned types of pain developing, it's always best to take precautionary measures and speak to your emergency dentist right away. By allowing them to examine your oral cavity, they can administer the right method of treatment and help you and your smile to feel better in no time.
About the Author
Dr. Moji Chandy earned her Doctor of Dental Surgery degree from NYU College of Dentistry and has been practicing dentistry for more than 12 years. Opening Aegis Dental in 2012, she and her team are readily available should a dental emergency occur at home. Whether faced with a knocked-out tooth or severe pain as a result of decay or damage, you can trust that Dr. Chandy will provide immediate care when you need it most. If you are experiencing a dental injury and need assistance, visit our website or call (972) 492-6700.