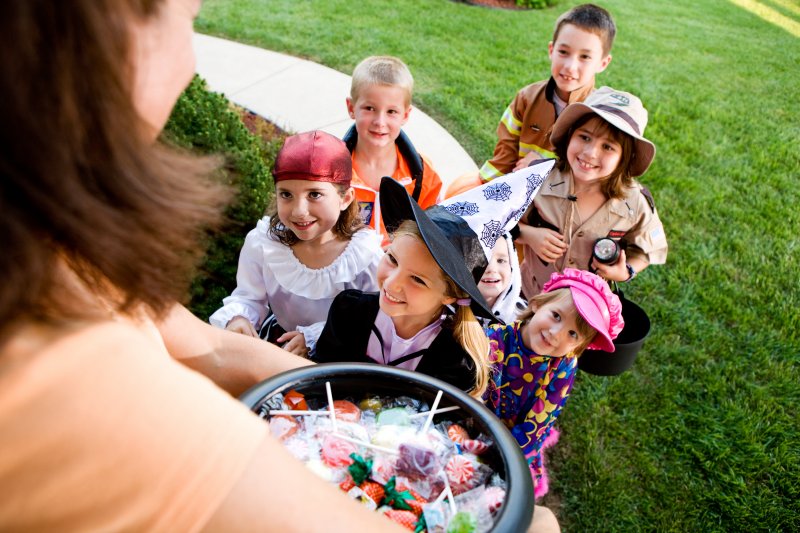 The most "spooktacular" holiday is just around the corner: Halloween! For kids and adults alike, it's a chance to dress up as vampires, witches, and zombies – while eating plenty of candy, of course. This age-old tradition of filling up on gooey chocolate, sour candies, and other delicious goodies comes only once a year. However, the negative impact on your teeth can stick around for a lot longer. Therefore, a cosmetic dentist in Carrollton is sharing three tips to keep you and your child's smile in pristine condition – no matter what you are dressing up as.
#1. Be Picky About Your Candy
From classic candy bar staples to sweet and sour gummies, your child's trick-or-treat bag will likely be filled to the brim with a number of delicious treats. While their first reaction may be to delve right in without much thought, it is important to be selective about the candy you and your family consume. Since hard, sticky sweets cling to your teeth, they can lead to significant tooth decay. Plus, sour candies are extremely acidic in nature, which can damage the enamel on your teeth and lead to cavities. Instead, opt for dark chocolate (if possible), which has less sugar.
#2. Set a Limit and Sell the Rest
Collecting a bag full of candy that lasts until the New Year is impressive, but it can continually expose your child's teeth to excessive amounts of sugar that eat away at their healthy smile. So, set a limit beforehand and exchange the rest for a fun toy! That way, they can indulge in some of the holiday fun and be rewarded for making good choices when it comes to their oral health. (Plus, it will prevent you from being tempted to snack on it throughout the day!).
#3. Eat Candy With (or Shortly After) a Meal
Saliva plays a crucial role in neutralizing the acids in your mouth and rinsing away debris. Since your salivary glands are the most active during meals, eating candy during mealtime can reduce the likelihood of the sugar clinging to your teeth and eroding the enamel. Plus, make sure to always brush and floss shortly after to prevent tooth decay and cavities from developing!
To ensure the scariest thing about this season is your costume (not your smile!), follow the above tips this Halloween. Plus, make sure to maintain your routine visits to the dentist to ensure your teeth and gums are in tip-top shape.
About the Author
Dr. Moji Chandy earned her Doctor of Dental Surgery from NYU College of Dentistry in 2006, and she has spent the last nearly 15 years helping countless families achieve pristine oral health and beautiful smiles. Today, she continues to stay up to date on the latest technology and techniques through professional memberships with the American Dental Association and the Texas Dental Association. If you would like to schedule some post-Halloween TLC for your family's teeth, don't hesitate to visit her website or give her a call at 972-492-6700.