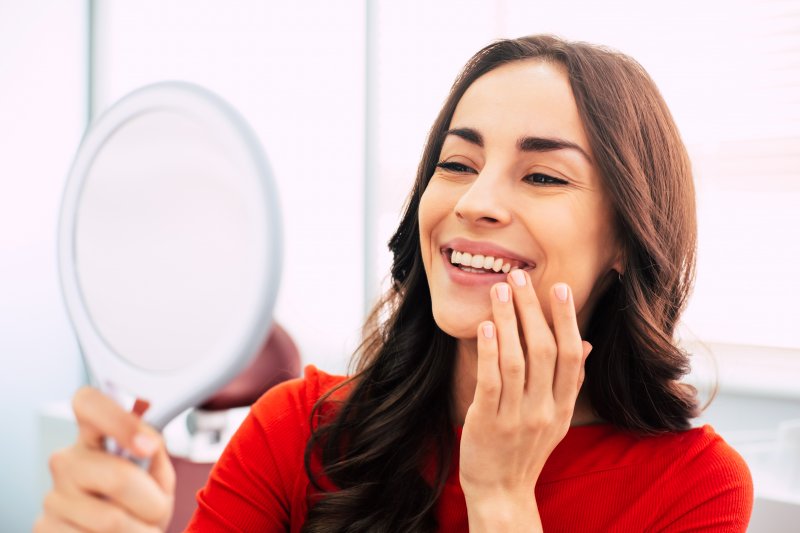 Need something to be thankful for this year? If having a smile that gives you confidence and allows you to eat, chew, and speak with ease makes you happy, may we suggest adding dental implants in Carrollton to your list this holiday season? Because you understand the benefits of these truly unique restorations, share these impactful advantages with someone else who is considering this tooth replacement option.
Renewed Confidence in Your Smile
Missing teeth in Carrollton can do more than wreak havoc on your oral health. They can also make you more self-conscious than you've ever felt before. Fortunately, with dental implants, their natural look and feel will restore your smile to its former beauty, giving you the confidence you need to meet people and grab hold of new and exciting opportunities.
A Smile That Lasts
When choosing a tooth replacement solution to replace your missing teeth, one of the most important factors is how long it will last. With dental implants, the posts can last decades or even a lifetime with proper care. How? Their surgical placement within the jawbone allows the implant to fuse with the bone and surrounding tissue, creating a more stable and firmer foundation. While you will likely be responsible for replacing your restoration over time, your implants can remain in place for the rest of your life.
Fuller, More Youthful Appearance
Losing your natural teeth can result in bone loss over time. The alveolar bone is responsible for holding your teeth in place. When there are no teeth to continue stimulating this area, it will ultimately weaken and cause your jawbone to deteriorate. Your facial shape will then begin to change shape over the years, resulting in what is often referred to as "facial collapse." To avoid this, dental implants mimic the natural tooth structure and when placed into the jawbone, the "root" of the implant begins to stimulate this bone, allowing it to remain strong and stable. In turn, you will maintain a fuller, more youthful appearance and avoid many of the most common problems that can occur as a result of missing teeth.
Ability to Eat Without Restrictions
Don't want to miss out on all the great food this holiday season? Dental implants allow you to eat all your favorite foods. Unlike dentures or a fixed bridge that can make it more difficult to eat coarser meals, implants provide you with a greater bite force, allowing you to avoid the worry of a restoration slipping or falling out in the company of friends and family.
Make sure to add dental implants to your list of "Things to Be Thankful For in 2020." Your experience may just inspire someone else to choose this permanent and longer-lasting restorative solution.
About the Author
Dr. Moji Chandy earned her Doctor of Dental Surgery degree from NYU College of Dentistry and has been practicing dentistry for more than 14 years. Opening Aegis Dental in 2012, she has extensive training in various areas of dentistry and is always ready to respond to each of her patient's individual needs. Interested in dental implants to replace your missing teeth? Dr. Chandy and her team can restore your smile, giving you greater functionality and improved oral health for years to come. If you're interested in learning if you are a qualified candidate, visit our website or call (972) 492-6700.