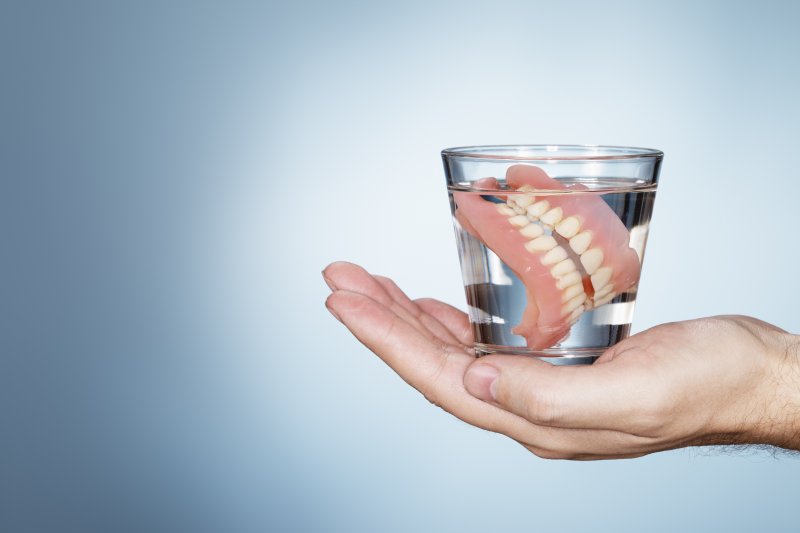 After receiving your dentures, it's important that you understand how to properly care for your new smile. This customized prosthetic is sturdy but not indestructible, which means you'll need to take extra precautions to avoid accidental breakage. You'll also need to know what to do to avoid the potential for gum disease, which can have a serious impact on your oral and overall health as well as your smile. A dentist shares valuable tips to caring for dentures in Carrollton and how putting them into action can prolong the life of your prosthetics.
Handle with Care
When preparing to clean your dentures, place a towel in the basin of your sink. It is far too easy for your teeth to slip out of your hands, which can result in them hitting the porcelain and breaking. A towel can help reduce the risk of damage. You should also remember to rinse your dentures each time before reinserting them into your mouth, especially after cleaning them, as the solutions can be harmful to your overall health if ingested.
Clean with the Right Products
You might assume that traditional toothpaste is fine to use when cleaning your dentures; however, this is not true at all. To ensure your prosthetics do not suffer scratches or damage, it is best to avoid using an abrasive or whitening toothpaste, products with bleach, or hot water. Instead, use a soft-bristled toothbrush or a denture-specific brush as well as mild dish soap and lukewarm water to thoroughly clean your artificial teeth. You'll want to make sure that you soak them each night in a denture solution to keep them from drying out.
Should you choose to use a dental adhesive to secure your denture into place, make sure to remove any remnants from your gums.
Store Correctly
Dentures should never become dry, as they will become brittle and be more prone to breakage. When not wearing your dentures (at night while sleeping), it is best to keep them in denture cleaner or room temperature water. This will ensure they remain moist. Just remember to keep them out of reach of little hands and pets. You'll also want to avoid using hot water when rinsing your dentures, as this can warp the plastic.
Maintain Optimal Oral Health
Whether you have a partial or full denture, you'll need to maintain good oral hygiene to ensure any remaining natural teeth and gums are healthy. Gum disease can cause the bone to deteriorate, resulting in changes to your facial shape and your denture no longer fitting correctly. Tooth decay can lead to additional missing teeth if left untreated. Practicing good oral habits at home as well as seeing your dentist every six months can help lower your risk for common dental problems and keep your smile looking and feeling its best.
Living with dentures is a great way to replace missing teeth in Carrollton. Following these suggested tips will help your smile to last longer and remain damage-free.
About the Author
Dr. Moji Chandy earned her Doctor of Dental Surgery degree from NYU College of Dentistry. Opening Aegis Dental in 2012, she and her team provide exceptional dental care to patients with all types of oral healthcare needs. When tooth loss results in the need for dentures, Dr. Chandy will go over the appropriate ways to care for your new prosthetics as well as how to clean them effectively to ensure a longer lifespan for your new smile. If you wear dentures and would like some helpful tips to better maintain your smile, visit our website or call (972) 492-6700.