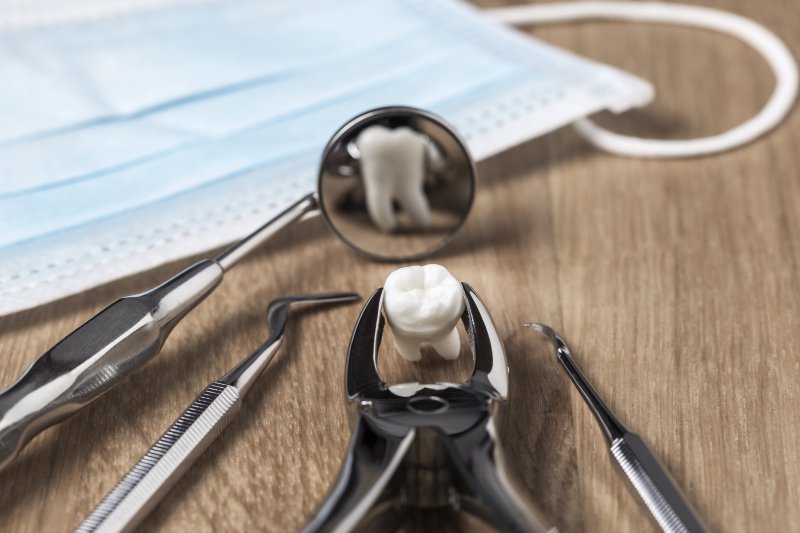 You are visiting your dentist for a regular checkup and cleaning. After discussing the status of your oral health, you learn it is necessary to undergo tooth extraction in Carrollton. If this news catches you off guard, you may be thinking, "why does my dentist suddenly want to remove one of my teeth?" This can certainly be surprising information for some, especially if you're not experiencing any pain or "issues." So what are the reasons for this type of procedure? A local dentist explains why tooth extractions are necessary and what you can expect when preparing for your upcoming procedure.
The Necessity for Tooth Removal
The most important thing to remember is that your dentist will never recommend this method of treatment unless it is absolutely necessary. It is the goal of your dental professional to help you maintain your regular teeth as long as possible, so when one of your pearly whites needs to be removed, it's because there are simply no other available options that will save your smile.
To achieve a better understanding, here are a few reasons for tooth extraction in Carrollton:
Severe tooth decay that causes bacteria to reach the innermost layer (the pulp) and cause an infection. While this scenario is typically treated with root canal therapy, the decay may be so severe that an extraction is the only way to keep the infection from spreading and affecting nearby, healthy teeth and gums.
Gum disease that is so severe it is attacking the alveolar bone and soft oral tissues. Your teeth can become loose as a result. The only way to avoid more serious complications is to remove the tooth, treat the periodontal disease, and discuss proper replacement options (i.e., dental implants, fixed bridge, etc.).
To minimize overcrowding inside your mouth. When teeth sit too close together, it can cause oral health issues like tooth decay and gum disease. Not to mention the unpleasant aesthetic it can create. Whether you require orthodontic treatment to address this problem, your dentist may recommend tooth extraction to allow additional space between your teeth.
The Process of a Tooth Extraction
Depending on the status of your tooth, whether it is fully erupted or impacted, your dentist will perform either a surgical or simple extraction. No matter which one you need, you will receive local anesthesia to numb the tooth and the area surrounding it. If necessary, you may also inquire about available sedation methods.
If your tooth is partially or fully erupted, a dental professional will use specialized instruments to apply the appropriate amount of pressure to the tooth before gently moving it back and forth until it detaches from the ligaments that connect it to the bone. If the tooth is impacted, meaning it has yet to erupt, the dentist will make a small incision in your gums before separating the tooth into sections to allow for an easier, more manageable removal process.
Tooth extractions may sound scary, but in reality, they are performed using the safest, most effective instruments and equipment available. By having a tooth removed, you can rest easier knowing that your oral health will greatly benefit from this necessary procedure.
About the Author
Dr. Moji Chandy earned her Doctor of Dental Surgery degree from NYU College of Dentistry. Opening Aegis Dental in 2012, she and her team provide exceptional dental care to patients with all types of oral healthcare needs. If you or a loved one is suffering from a severely decayed or damaged tooth that cannot be saved using root canal therapy, you can trust Dr. Chandy to remove it safely and effectively. Using the appropriate instruments and equipment, you will walk away with a healthier smile. Visit our website or call (972) 492-6700 to find out how we can help you.