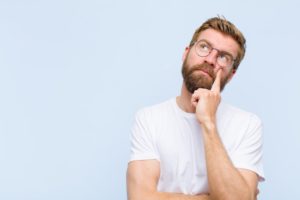 After years of wearing traditional dentures, you've decided it's time to spring for implant dentures. If you think way back, you can recall how strange your prosthetic teeth felt at first. It took a lot of getting used to, especially when you ate or spoke, and you wonder how you'll adjust to having implant dentures. Will it take a long time?
The good news is that it should be much easier to transition to implant dentures! Each patient adjusts on their own timeline; however, those who experienced tooth loss recently will likely need less time. Patients who have gone years with dentures or without restorations at all will probably require more time to adapt to having a full, strong smile again.
Here are some things to keep in mind as you begin treatment to help you adjust as quickly as possible to your new teeth.
How the Implant Process Goes
Getting implant dentures is very different from receiving traditional ones. While normal dentures rest on top of the gums, implant dentures are firmly embedded in the jawbone. This process, called osseointegration, takes several months. You'll have to be patient as the jawbone heals, but then, once the implants are ready, your dentist can attach the dentures, giving you instant stability and strength.
How Implant Dentures Feel
The truth is that implant dentures are the closest thing you can find to getting your natural teeth back. Like real teeth, implant dentures have "roots" or posts that become integrated in the jawbone and hold your prosthetic teeth in place. Because of their structure, dental implants provide much more security and can restore up to 70 percent of your original biting power. As a result, you can eat foods with implant dentures that you couldn't with your traditional dentures, and it should be easier to speak clearly without worrying about your replacement teeth slipping.
Tips for Adjusting to Implants
You'll need to be careful for the first few days you have your implant dentures. Because they do not have nerves, you are at a higher risk of biting your tongue or cheeks until you learn how to chew your food without harming yourself. Also, if you are drinking a hot coffee or other beverage, make sure it is cool enough that it won't burn your soft tissues. Your implant dentures will not let you know if it's too hot until it reaches the back of your mouth, when it'll be too late to avoid burning.
Basically, using your new teeth should feel natural. It likely won't happen immediately, but the familiar feeling of strong teeth should come back to you like riding a bike!
When you start treatment, give yourself plenty of time to get used to your implant dentures. Even if you need a little bit more to become reacclimated, you'll catch on. Having a complete and more permanent smile again is well worth the time and effort you put in now!
About the Author
Dr. Moji Chandy has been practicing for 16 years but opened Aegis Dental in 2012. In addition to the American Dental Association and the Texas Dental Association, she is a member of the Academy of General Dentistry and the North Texas Dental Society. She gives each patient individualized attention according to their unique needs. If you would like to schedule an appointment with Dr. Chandy, you can contact Aegis Dental at 972-492-6700 or online here.