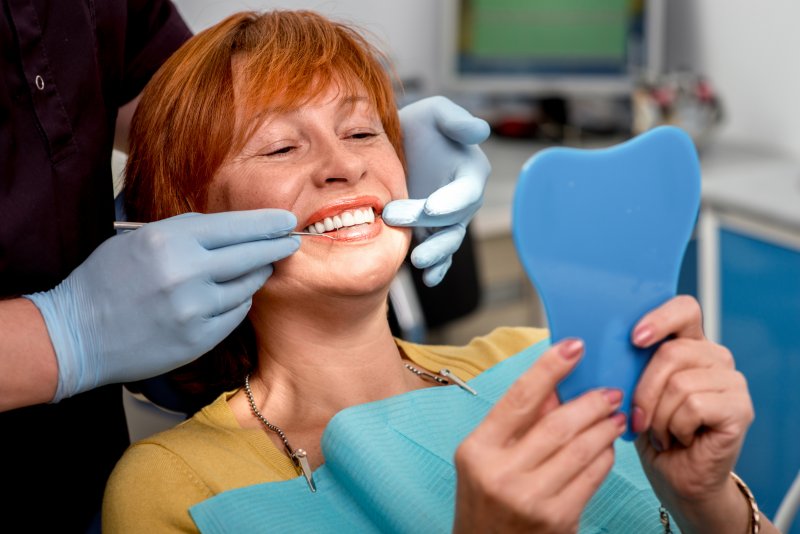 Living with traditional prosthetics may seem fine at first but after years of wear, you might feel like switching to an alternative, more superior option. Oftentimes, the challenges that come with removable teeth can make it difficult to enjoy your new smile. So is it possible to transition from dentures to dental implants? Learn how the process is possible and what you can expect as you move toward a healthier, happier, more fully functional smile.
Why Make the Switch?
For many patients, wearing dentures for a lifetime is not a problem. They don't mind the frequent adjustments and replacements, nor are they bothered by the need for denture adhesives. However, if you are one of the millions of people living with these traditional prosthetics who are tired of the constant upkeep, you may be thinking it's time to switch to dental implants.
Some of the most common reasons patients make the decision to transition include:
The required cleaning process to keep dentures clean and free of bacteria. This includes brushing and soaking each night.
The fear of slippage or teeth falling out while eating or speaking.
The messy denture adhesive used to keep teeth more firmly in place.
The facial changes that occur that cause prosthetics to no longer fit comfortably.
The need to replace them every 7-10 years.
Is Switching to Dental Implants Possible?
The answer is dependent upon your current oral and overall health as well as your commitment to the process. You'll be required to meet with your dentist for an initial consultation. It is during this visit that they will evaluate your mouth and determine your level of jawbone density. As this is the foundation for your new smile, you must have enough jawbone to adequately support your new teeth.
If you do not, or if you show signs of periodontal disease, you will be required to undergo preliminary treatments beforehand. Your dentist can recommend a bone graft or periodontal therapy depending on your needs.
You should also be aware that it takes time to receive dental implants, as there is a process each individual must go through to ensure successful results. From the initial consultation to the oral surgery to the recovery at home and final placement of the restoration, it can take up to six months or more.
The good news, however, is that once dental implants are firmly in place, you'll be able to eat your favorite foods, speak clearly, clean your teeth with ease, and enjoy a smile that can last 30 years or more with regular care.
Don't wait to talk to your dentist about making the switch from dentures to dental implants. Once you see the results, you'll wonder why you didn't do it sooner!
About the Author
Dr. Moji Chandy earned her Doctor of Dental Surgery degree from NYU College of Dentistry and has been practicing dentistry for more than 16 years. Opening Aegis Dental in 2012, she has extensive training in various areas of dentistry and is always ready to respond to each of her patient's individual needs. If tooth loss is plaguing your smile, Dr. Chandy can discuss the benefits of dental implants to help you determine if this is the right solution for you. Visit our website or call (972) 492-6700 to find out how we can help.