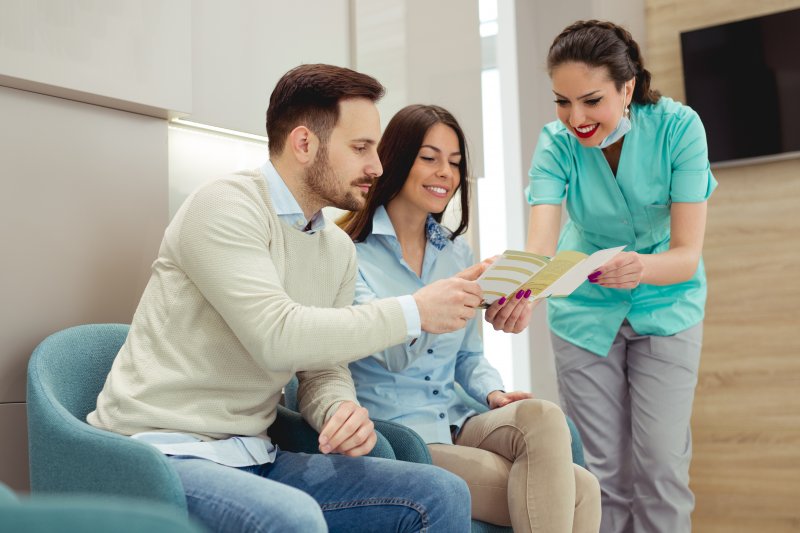 When it comes to understanding how dental insurance works, most people admit that they rely on staff members to help them navigate the verbiage and process. It is also believed that when individuals understand the importance of using their benefits, they are more likely to go to the dentist for preventive care. If you want to learn how to maximize your dental insurance benefits in Carrollton before the end of the year, here are 3 reasons to consider.
Preventive Care Minimizes the Risk for Future Problems
It is no secret that regular dental checkups and cleanings are highly effective when it comes to identifying oral health problems early on. When your dentist can examine your smile to look for signs of decay, disease, or even oral cancer every six months, there is a good chance that your symptoms can be reversed, and you can reduce your risk for more serious treatment later on. To receive this type of care, it is helpful to file with your dental insurance company because most offer available coverage between 80-100%. This means, your insurer places significant importance on preventive services and is willing to pay more for these visits to avoid having to cover more extensive procedures down the road.
Undergoing Complex Treatment Now Will Save You in 2022
Another reason to use your dental benefits now is that most insurance plans are good for one calendar year. This means that you will be free to use them anytime from January to December; however, once midnight on December 31 arrives, your policy expires, and your deductible returns to $0. Also, any unused funds provided by your dental insurance company (i.e., your annual maximum) are returned, cause you to miss out on money you could have used to improve your smile in 2021.
If you learn you need root canal therapy, tooth extraction, or even a dental filling, it is best to have it done before the end of the year so you can save the most money. If you've met your deductible, your dental insurance company will step in to pay anywhere from 50-80% of the total cost, which means more money in your pocket while also taking care of your smile. If you wait until 2022, you'll be required to meet your deductible first.
See an In-Network Dental Professional
When reviewing your plan, you'll likely find two columns: in-network and out-of-network. While you can still expect to receive high-quality care and service, you will save more money when you visit a dentist who is in-network with your plan. Their pre-negotiated services and fees make it possible for you to pay the lowest possible price when receiving certain treatments in-house. When choosing someone who is out of network with your policy, you'll be expected to pay more during your visit.
If you want to avoid losing thousands of dollars each year, it's time to take back your smile and your wallet. Let your dentist help you find ways to save while getting the most out of your insurance policy.
About the Author
Dr. Moji Chandy earned her Doctor of Dental Surgery degree from NYU College of Dentistry. Opening Aegis Dental in 2012, she and her team are always willing to help patients who are concerned about the affordability of care. As an in-network provider for many dental insurance plans, Dr. Chandy wants all patients to have the opportunity to receive the best possible care without worrying about how much it will cost. If you are looking to maximize your dental benefits before the end of the year, visit our website or call (972) 492-6700.